'We Can Make Great Things Happen'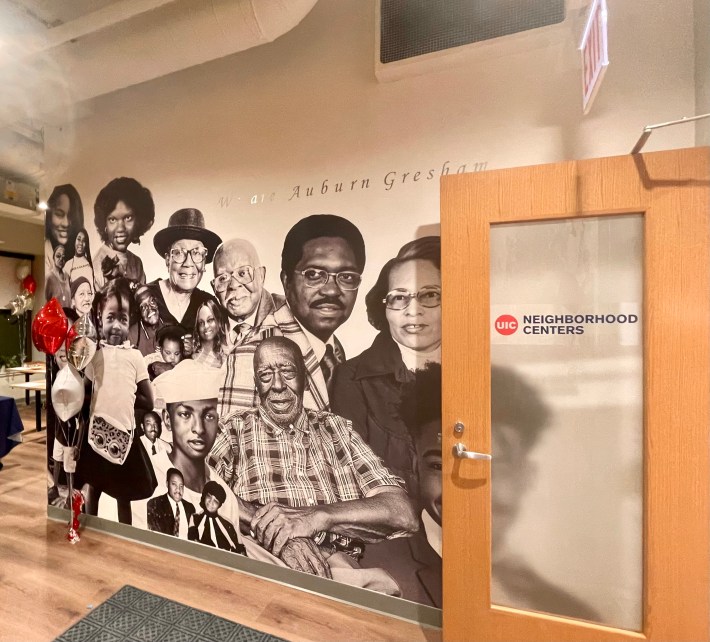 AUBURN GRESHAM — Carlos Nelson used to drive past the "lifeless" building at 839 W. 79th St. almost every day for years.
Home to a drab public aid office in the 1970s, city officials bricked over the 18-by-18-foot windows on the ground floor and boarded up the second and third floor windows when the office closed. The nearly 100-year-old terra cotta building sat vacant for decades — but Nelson saw potential for revival.
After seven years of work, Nelson looked on Friday as Auburn Gresham's four-story Healthy Lifestyle Hub welcomed dozens of neighbors with a Hollywood red carpet, live music and healthy food.
Community leaders and local officials cut the ribbon in October but Friday's extravaganza was for neighbors to roam the halls for the first time, said Nelson, executive director at the Greater Auburn Gresham Development Corporation. 
A "dark and dismal" sight in Auburn Gresham is now a beacon of light offering medical care, nutritious food, community space and other services steps away from neighbors' homes, Nelson said. 
"I used to see this building and the boarded-up windows, and it hurt to think of what others thought about our people," Nelson said. "When I visualized the Healthy Hub, I wanted to be able to bring life into this building. We wanted to light up 79th Street, literally and figuratively. Today is a day of excitement."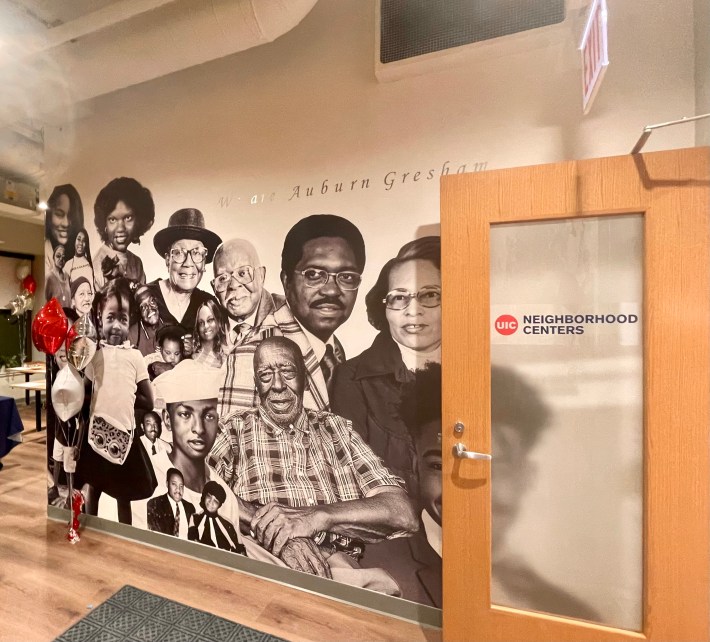 'You'll See The Light Emanating From This Building'
The Healthy Lifestyle Hub will replenish a neighborhood long denied necessities and amenities, Nelson said. The 79th and Halsted intersection alone has lost a Save A Lot grocery store, a CVS pharmacy and a Bank of America branch.
A UI Health Clinic and Urgent Care Center on the second floor can provide medical, dental and mental health services to more than 30,000 patients per year, Nelson said. Nearly 500 patients have come in even without any advertising for the clinic, Nelson said. 
The third floor is home to Heartland Alliance and the UIC Neighborhood Center, with tutoring services and small business workshops provided by the university.
Bank of America will soon open on the first floor, years after closing the nearby location. A high-tech kitchen and training center on the same floor, sponsored by a $600,000 donation from the Chicago Bears, will give local cooks a space to perfect their healthy recipes, Nelson said. 
Big Brothers Big Sisters of Metropolitan Chicago, Serenity Home Health Care, Mikkey's Retro Grill and a pharmacy will also soon open at the hub, Nelson said. 
"It'll be like you're in Downtown Chicago," Nelson said. "We'll have restaurants, businesses, and a bank in one space, and when you walk by, you'll see the light emanating from this building."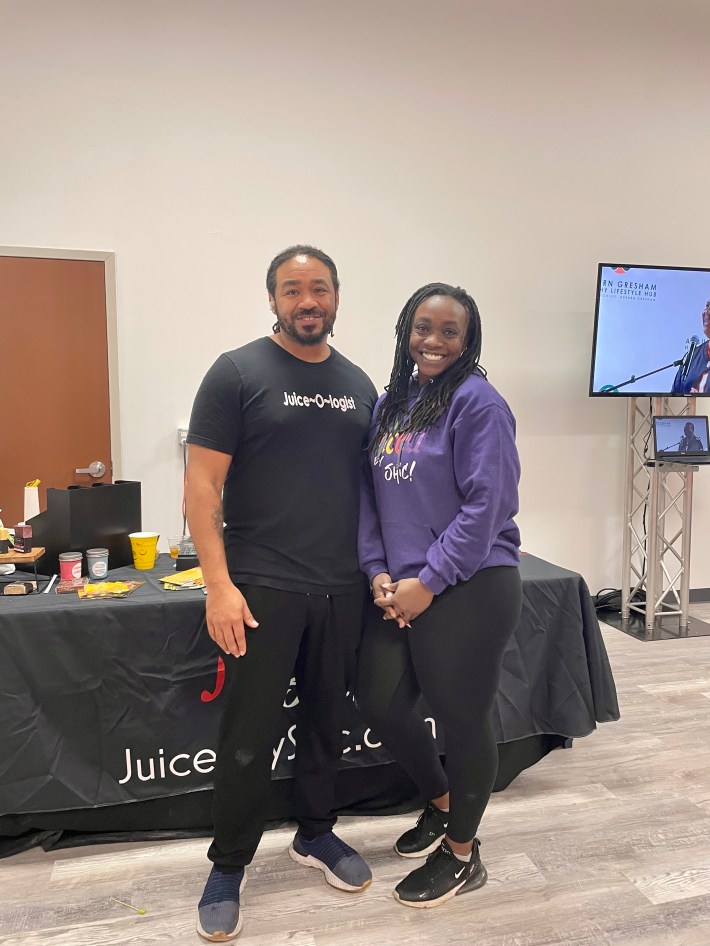 Antonio "Tone" Barnes, co-founder of Juiced by Shic, handed out free samples of his healthy, blended smoothies while guests toured the space. 
The Black-owned business, operated by a husband-and-wife duo, is the newest tenant in the healthy living center. 
Growing up on the South Side, Barnes didn't have many stores in his neighborhood that offered fresh fruits and vegetables, he said. Juiced By Shic in Auburn Gresham will be the change he always wanted to see, he said. 
"We are bringing an option of fresh fruits and vegetables into the community and exposing our people to different kinds of healthy ingredients," Barnes said. "You are what you eat. I feel that food is medicine, and the healthier you eat, the healthier you'll be." 
Enid Johnson, a former Auburn Gresham resident, came back to the neighborhood Friday to witness "something fantastic," she said.
Healthy food options like Juiced by Shic and the UI Health Center are some of her favorite additions, she said. 
"I plan on coming here and taking advantage of all the services they offer," Johnson said. "I want to support community organizations as much as possible. We've gotten away from that on the South Side in our communities, so this is wonderful. I'm excited about all the things that are going to happen here."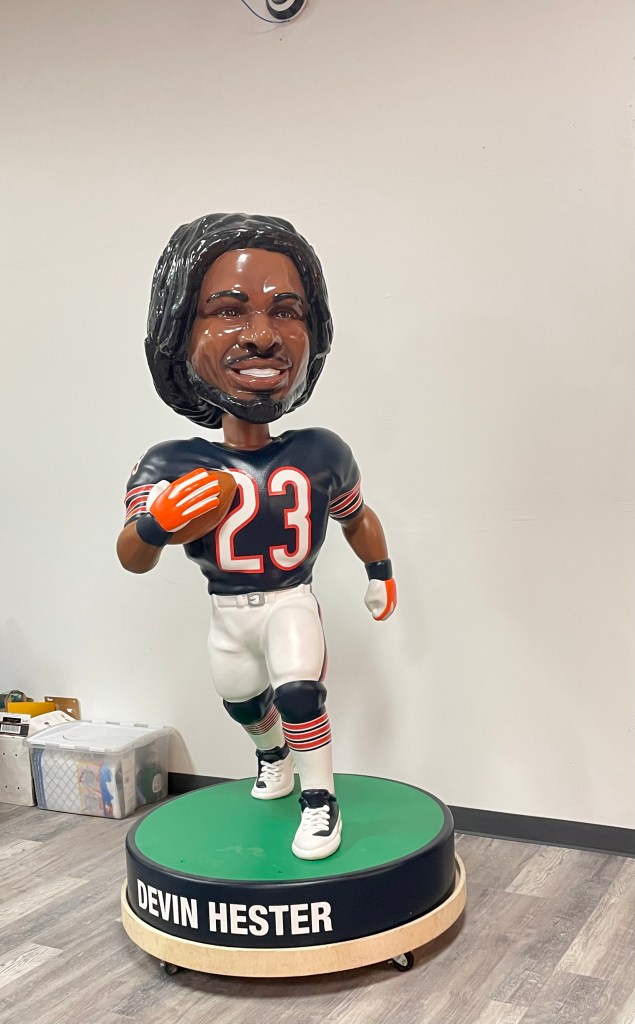 For Charles Perry, visiting the Healthy Hub Friday was the start of building a legacy. 
With his small children in tow, his family ate healthy tacos, toured the many resources available in the hub and danced to beats spun by DJ Farley "Jackmaster" Funk, Perry said. 
When his children reflect on Friday's celebration in later years, he hopes the eventful day will be the catalyst that inspired them to dream big, Perry said. 
"I wanted them to see what's possible if you have a vision," Perry said. "Life is bigger than the 3-by-3 blocks that they live on. The world is so much bigger, and I want them to explore it.  Right now, it might not mean anything to them, but 20 years from now, they'll remember the way we danced. That's what we have to do as a community. We have to give our children experiences so they can go and create their experiences. 
I'm envisioning my children telling me to come out because they're having a grand opening at a building twice as big as this."
The Healthy Lifestyle is proof if you give a neighborhood the proper resources, "we can make great things happen," Nelson said. 
The South Side development corporation received $4 million from Mayor Lori Lightfoot's Invest South/West program in 2020 to create the lifestyle hub. Months later, the project won the first ever Pritzker Traubert Foundation's $10 million Chicago Prize to bring the vision closer to reality. 
Now, the healthy living center will encourage others to see the greatness that thrives in the neighborhood, Nelson said. 
"The Healthy Lifestyle Hub lets neighbors know that Auburn Gresham is a place where they need to grow their roots, reinvest and raise their families," Nelson said.  "I want people to tell their kids and grandkids about this so people can look at Auburn Gresham, see a beautiful brick bungalow community, and say, 'Alright, let's invest here. Let's grow our families and build wealth here.'" 
Listen to "It's All Good: A Block Club Chicago Podcast":