Some ACA health insurance plans have lots of enrollees, few providers : Shots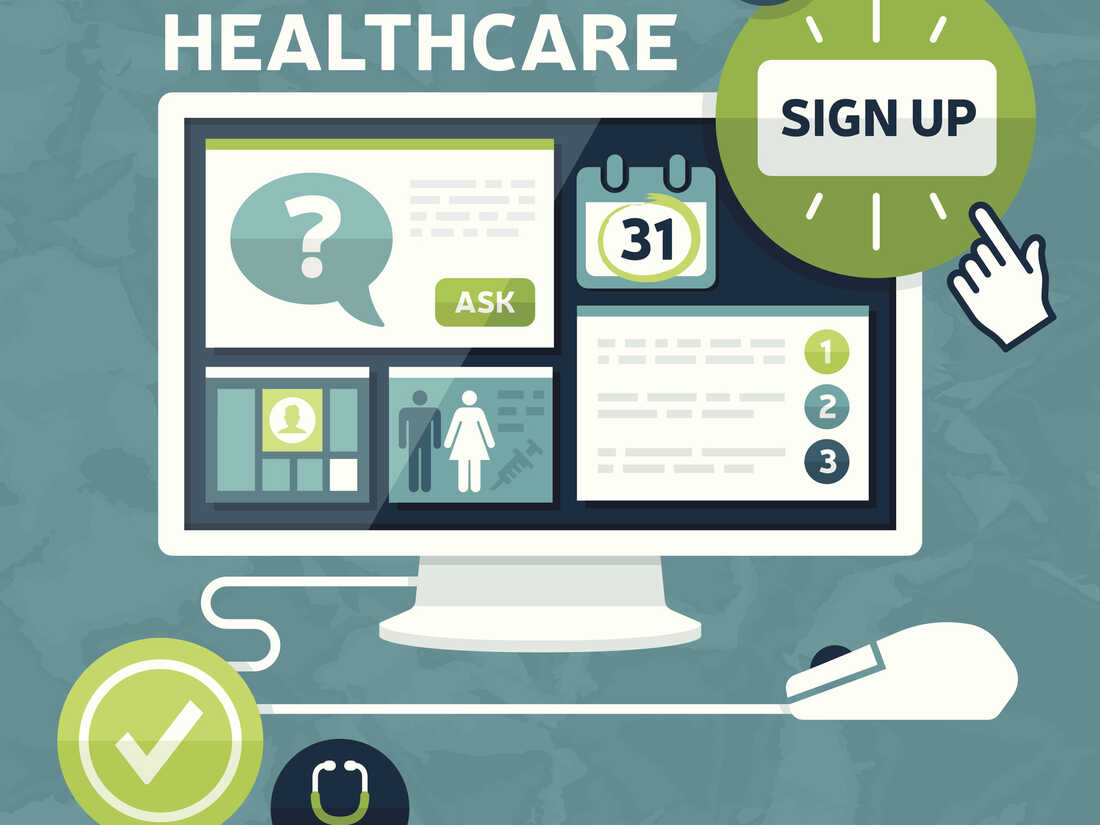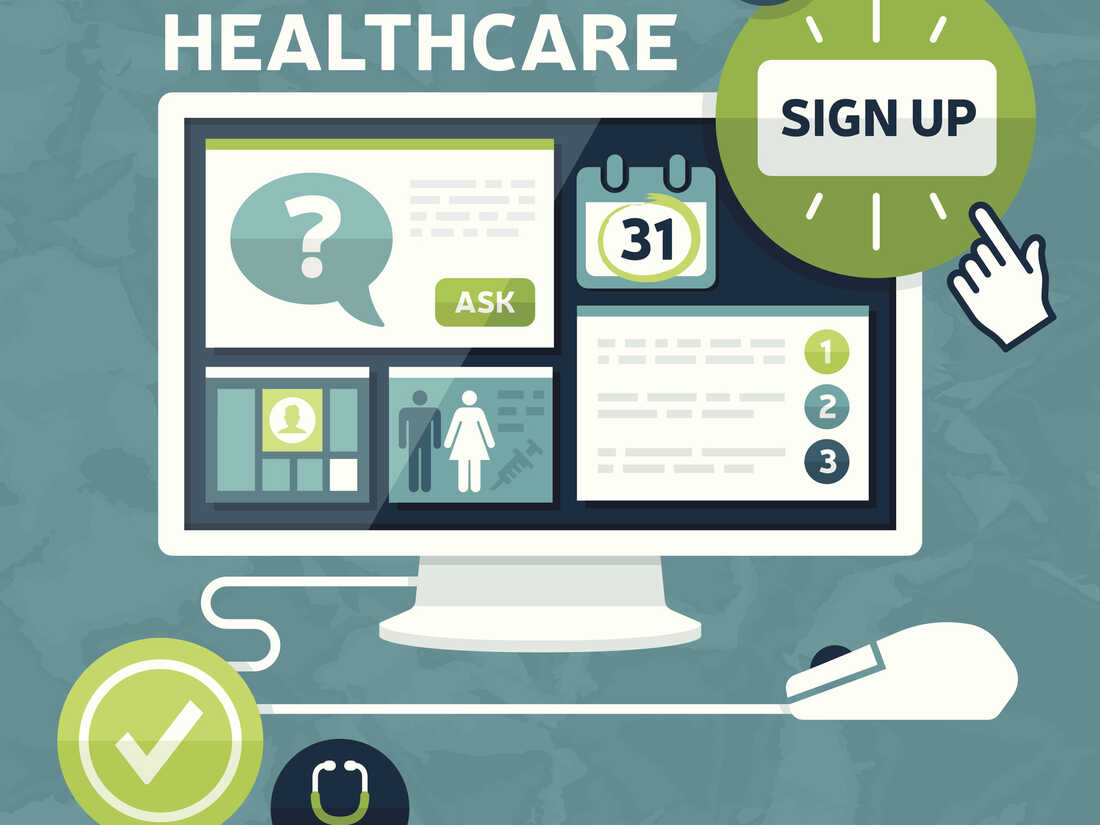 The Affordable Care Act may be struggling with its own success.
Record enrollment over the last two years brought more consumers into the health insurance market. At the same time, many insurers began offering smaller networks of doctors and hospitals, partly to be price competitive.
That combination left some patients scrambling to find an available in-network physician or medical facility. That can be a challenge, especially when enrollees must rely on inaccurate provider lists from their insurance company. A recent federal report found that 243 out of 375 insurance company plans reviewed by regulators failed to meet network standards.
'The last thing she needed'
Take what happened to a central Pennsylvania policyholder, who in January fell and broke her arm and a bone near her eye.
She was directed by the hospital that provided her emergency care to follow up with an orthopedist, recounted Kelly Althouse, the patient's insurance agent, who works near Reading, Pa. Althouse's client spent hours calling orthopedic doctors listed in the provider directory of her new health plan from insurer Ambetter Health, a national carrier that in 2019 started offering ACA plans in Pennsylvania. Several doctors said they weren't part of the network, despite being listed by the company, Althouse said. It took about 15 tries before her client found an in-network doctor who would see her.
That "was the last thing she needed when she was already feeling terrible," said Althouse.
It's a story that has been repeated to her multiple times since January, when the new plan year began. Her clients have "bombarded" her with calls, saying a range of physicians and other providers were not accepting the insurance, even if that provider was listed in the plan's own directory. "The thing that shocked me was how many offices told my clients, 'We have never heard of this company,'" Althouse said.
For its part, Ambetter officials said in a written statement to KHN that their network in Pennsylvania "meets or exceeds regulatory standards."
The size of insurers' networks of contracted doctors and hospitals, particularly in ACA plans, has long drawn concern. In recent years, insurers have trended toward offering smaller networks, in part to cut costs and keep premiums in check.
Problems arise when patients cannot find local in-network providers and must either pay more, for out-of-network care, if that's even an option in their plans, or travel farther for in-network care.
It wasn't supposed to be that way anymore, after new rules kicked in this year to address such issues.
More oversight, but is it enough?
For one, federal regulators are again checking whether insurers have enough providers. That comes after a 2021 court ruling that reversed a Trump administration move to eliminate such federal oversight.
In addition, new "time and distance" standards went into effect, requiring insurers to make available, within certain driving distances, at least one provider for each of a variety of physician specialties. For example, a large metro area must have enough endocrinologists for at least 90 percent of enrollees to be able to find one within 15 miles or a 30-minute drive.
Yet insurance brokers in multiple states told KHN that many clients are having trouble finding in-network providers across a variety of health plans. Even when they do, patients on some plans face "a four- to five-month wait to see a primary care doctor," said Tracy McMillan, president of Marketplace Insurance Exchange, an insurance brokerage in the Dallas-Fort Worth area.
Under the Affordable Care Act, insurers must "ensure a sufficient choice of providers." But there is no single nationwide standard on what to measure to determine network adequacy, and both federal and state regulators have authority to oversee the plans.
"These exchange networks have never had much rigorous oversight," said Karen Pollitz, a senior fellow at KFF.
But access is still limited in some areas and even the standards themselves may not be tough enough, say policy experts and brokers.
"We have insurers that don't even have a hospital in some counties," said Lauren Jenkins, owner of Native Oklahoma Insurance, a brokerage based near Tulsa. "How do they even get approved to be in these counties?"
In a metro area no more than 40 miles across, a plan could theoretically have as few as 10 doctors and three facilities in network and still meet these standards, Pollitz said.
In Texas, North Carolina, and other parts of the country, new companies, often charging lower premiums, have entered the ACA market. Some have networks "that are very, very tiny," said Don Hilke, owner of ClearBenefits Group in Durham, N.C. Even larger carriers are either squeezing their networks to compete on price or enrolling so many customers that they are stretching their existing networks.
'Everyone in a pickle'
In Texas, two smaller insurance companies left the market, leaving the remaining insurers without enough doctors to absorb the policyholders who had to find other coverage, said Ronnell Nolan, president and CEO of Health Agents for America, a membership association for independent brokers. "It left everyone in a pickle."
Federal regulators propose more changes for next year, including requiring insurers to meet appointment wait-time standards.
More has been done this year too, including reviewing insurer networks, said Ellen Montz, deputy administrator and director of the federal Center for Consumer Information and Insurance Oversight, part of the Centers for Medicare & Medicaid Services.
Insurers pegged as having a shortfall in their networks must now report monthly to CMS their "good faith efforts to fill those gaps" and how many complaints they get from consumers about access, she wrote.
Montz did not say how many insurers have fallen short, but the December report from the U.S. Government Accountability Office noted that CMS found the majority of insurance companies whose medical or dental plans were reviewed by federal regulators in August failed to meet network adequacy standards. CMS told the GAO that all plans eventually satisfied the requirements or provided "an acceptable justification as to why they were unable to meet the standards."
Creating networks and keeping lists of participating providers up to date pose ongoing challenges, said Jeanette Thornton, executive vice president of policy and strategy at AHIP, the health insurance industry's leading lobbying group. Those include the need to rely on providers to inform insurers when they move, retire, or stop accepting new patients.
Questions about the accuracy of provider directories persist. Dr. Neel Butala, an assistant professor at the University of Colorado School of Medicine, found that fewer than 20% of more than 449,000 physician listings had consistent address and specialty area information across five large insurers' directories, according to a research letter published in the Journal of the American Medical Association on March 14.
A lawsuit filed in August 2022 in the U.S. District Court for the Northern District of Illinois alleges the provider networks for Centene's Ambetter plans "are simply false and are often just copies of physician directories from other sources."
Without accurate directories, the lawsuit alleges, patients face "delays in treatment, inability to get treatment, traveling to see an in-network provider who is hundreds of miles away, and paying out-of-pocket for out-of-network providers." Similar allegations are included in ongoing lawsuits first filed in 2021 by the San Diego City Attorney against three California insurers.
The "No Surprises Act," which went into effect more than a year ago, requires insurers to update their provider directories every 90 days. No insurers have yet been penalized for failing to update theirs, said CMS's Montz. The law also stipulates that if patients get hit with an out-of-network charge because they relied on inaccurate information, the insurer can charge the patient only the in-network rate.
In October, CMS published an official query asking for comment on whether the federal government should create its own national database of in-network medical providers, an inquiry that drew hundreds of responses, both for and against.
There has been no indication whether such a plan will move forward.
KHN (Kaiser Health News) is a national newsroom that produces in-depth journalism about health issues. Together with Policy Analysis and Polling, KHN is one of the three major operating programs at KFF (Kaiser Family Foundation). KFF is an endowed nonprofit organization providing information on health issues to the nation.