How major retailers are trying to change how America consumes health care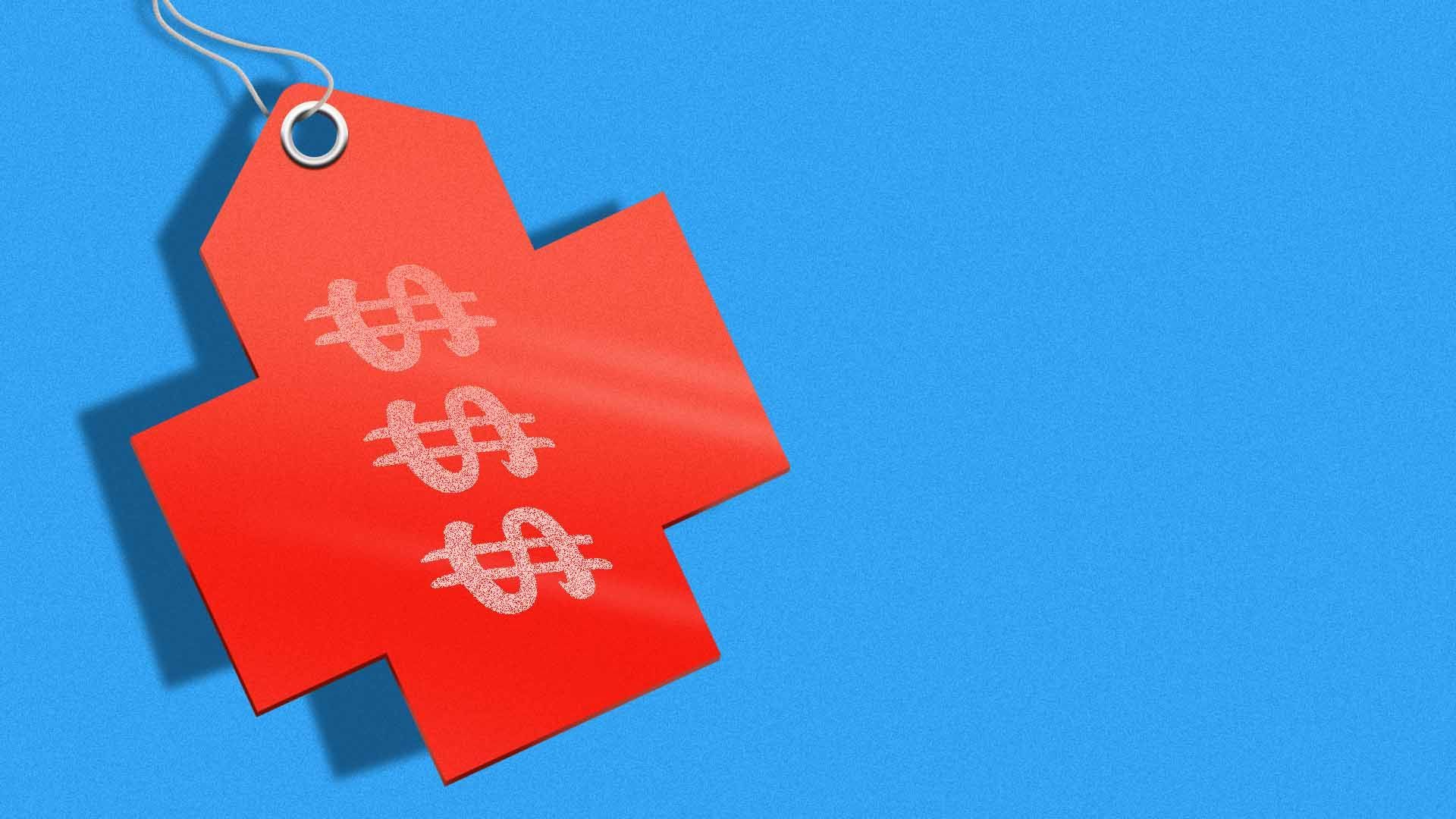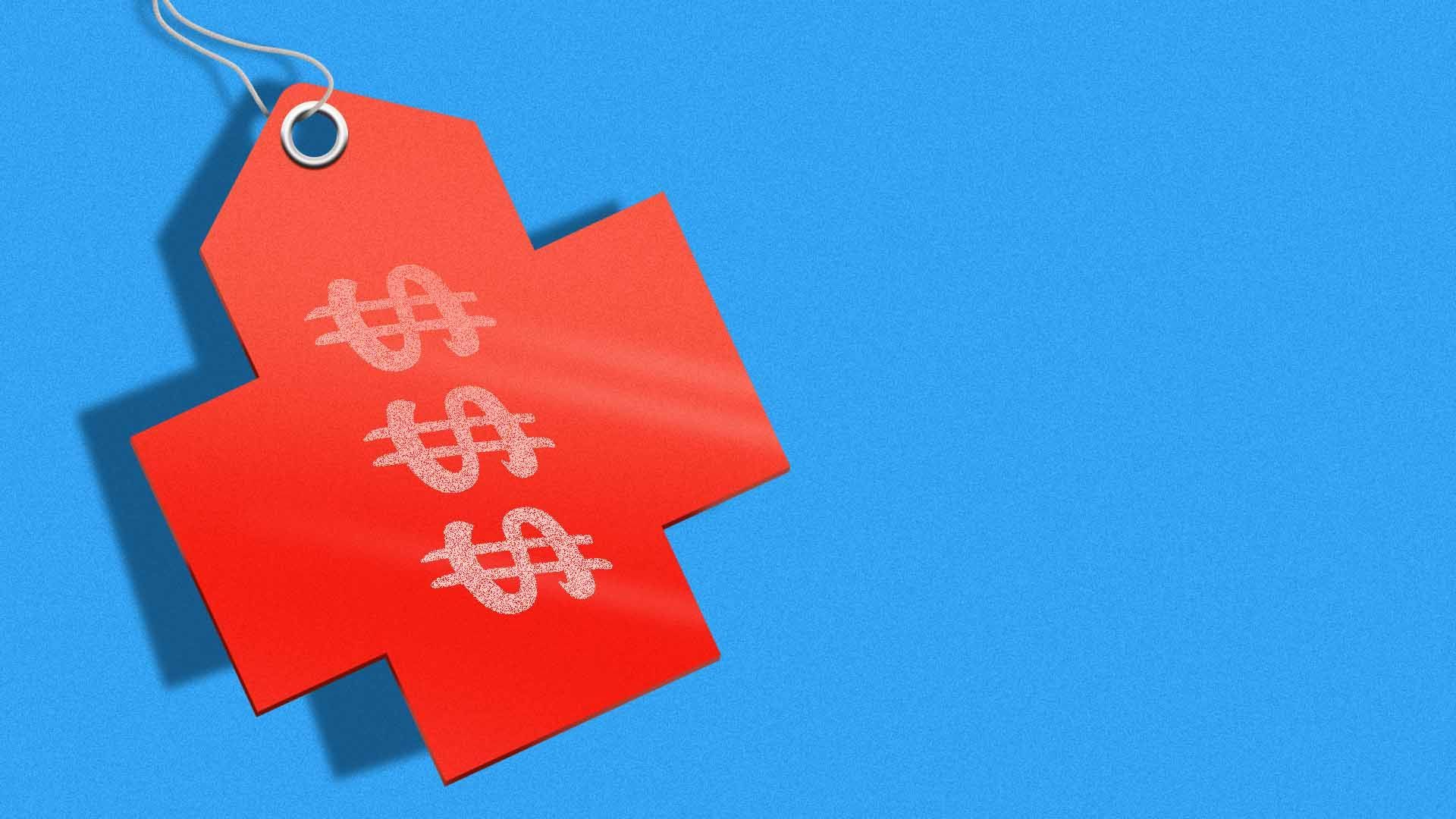 Illustration: Sarah Grillo/Axios
Amazon, Walmart, CVS, Dollar General and other big retailers are elbowing their way into health care delivery, pushing a customized consumer experience driven by digital health products.
What's happening: At its core, these companies are pulling together different tech-enabled services — urgent, primary, home and specialty care, pharmacy, and, in some cases, full integration with an insurer.
"Convenience is really front and center to those plays. They are trying to capture the attention of the patient when they already own that consumer," Caroline Hofmann, head of emerging businesses at virtual specialty care company Thirty Madison.
Why it matters: A more user-friendly portal to the health system could lead to more engaged patients and better access to care in underserved areas. It could even yield a sustainable model for profitably offering better care for less money.
But the retailers' forays are prompting growing anti-trust and privacy concerns, as well as fears of further erosion of the doctor-patient relationship once considered central to coordinated care.
What they are saying: "If you fast forward 10 years from now, people are not going to believe how primary care was administered," said Amazon CEO Andy Jassy in a recent announcement about the company's $3.9 billion acquisition of concierge medicine provider One Medical.
With that deal, which closed last month, Amazon brought in an on-demand virtual care services platform, more than 125 locations and a piece of the Medicare Advantage business.
Driving the news: Yesterday, Best Buy Health launched a hospital-at-home program with North Carolina-based Atrium Health. The tech retailer bought the remote patient monitoring company Current Health in 2021. Best Buy said it will provide patient education, its at-home care platform and devices, and technical support via specially-trained Geek Squad agents.
It came on the heels of Walmart Health announcing last week that it plans to nearly double the footprint of its in-store clinics, which offer primary, behavioral health vision and dental care. In the fall, Walmart also inked a 10-year Medicare Advantage deal with UnitedHealth Group.
In January, CVS Health announced a plan to buy Oak Street Health, a primary care group focused on Medicare patients. The pharmacy giant already owns insurer Aetna, pharmacy benefit manager CVS-Caremark, home health company Signify Health and health care service brands MinuteClinic and HealthHUB.
Also in January, Walgreens-backed primary care company VillageMD, scooped up more primary, specialty and urgent care investments, augmenting plans to open more than 500 full-service doctors' offices in Walgreens locations,
Other companies like Rite Aid, Albertson's, and Dollar General have launched programs in health care delivery.
Between the lines: Amazon, CVS and Walmart have made some of the most consequential moves by combining their massive retail footprints with assets like primary or urgent care sites, pharmacies and some sort of relationship with insurers, experts say.
"They're all acquiring every piece of medicine," Robert Pearl, a Stanford University professor and former CEO of The Permanente Medical Group, told Axios.
"Medicine as we know it will be very very different assuming they're successful. They're big companies, they're smart companies."
Be smart: Depending on the retailer, patients might have access to virtual care services, book appointments and fill prescriptions via an app.
They could get same-day care, get preventative services like vaccines and pick up their drugs in-store. A health worker might walk them down store aisles and guide them to healthy food purchases and wellness products.
In the first wave of this trend, retailers were more focused on urgent care or one-off visits for vaccines, said Jacob Effron, a principal at Redpoint Ventures.
"The criticism that could've been levied at that is that patients could just go for that ad hoc care and not have an ongoing relationship with a primary care doctor," he said.
In recent months, retailers are investing in end-to-end primary care. "That's what gets me increasingly excited about their role because there's only so much you can do as the urgent care provider and much much more you can do when you have that longitudinal relationship between the doctor and a patient over time," Effron said.
Between the lines: Each of these businesses also are clearly eyeing a very lucrative segment of health care: Medicare Advantage. More than half of eligible seniors are now covered by privately-run Medicare.
Medicare Advantage is attractive because its payment models are geared toward rewarding providers for wellness and prevention care. Payments are capped so there's an incentive to use integrated care to keep people healthy rather than providing services when they are sick.
For some retailers, it's similar to the Kaiser Permanente model, where the payer and provider are completely aligned, Pearl said. But the retailers could create an HMO on steroids.
"Why has Kaiser Permanente never really expanded nationally? It's very hard to get enough of a population in a local area to provide it. You can't hire enough specialists, enough doctors," he said. "The beauty of the retail giants is how big they are. If you get every Amazon Prime member to join, they immediately have enough volume they need to put in place a high-functioning system."
What to watch: How these businesses evolve.
Amazon until now has been mostly virtual in its offerings, Effron said. "It begs the question, will they do a similar model to what some of these others have done and put clinics in Whole Foods?"
The bottom line: This still makes up a very small segment of health care delivery — and may not solve the medical system's biggest problems.
"These players ultimately have to deliver the same or better outcomes at a lower cost in order to be in-network and get recommended by payers as well as picked by the employers," Hofmann said.
And, she said, they can certainly increase access. "It remains to be seen if they can really bend the cost curve," she said.
Editor's note: This story has been updated to correct the spelling of Caroline Hofmann's name.