Despite the slowdown in elective medical procedures prompted by the COVID-19 pandemic, 2021 has been a banner year for medical device manufacturers.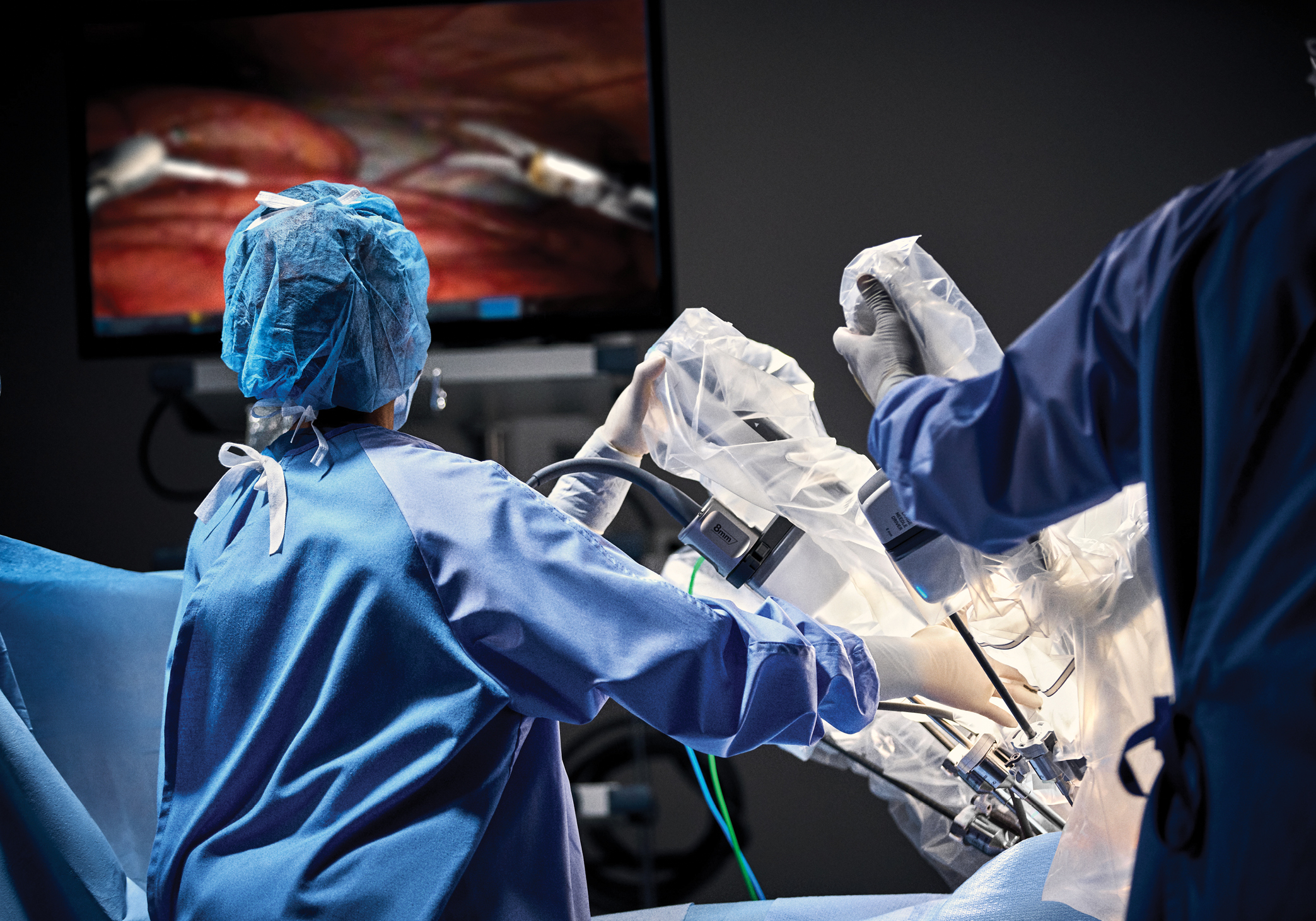 I
ntuitive Surgical opened its Peachtree Corners, Georgia, campus nearly 10 years ago, serving as a primary training facility for surgeons and care teams on the East Coast. For 27 years, the advanced robotic systems company, headquartered in Sunnyvale, California, has changed the landscape of medical practice through minimally invasive robotic-assisted surgery. Dozens of hospitals around Georgia use Intuitive's systems and technologies, such as the da Vinci, with portions of the da Vinci XI and X systems manufactured in Peachtree Corners, a northeast Atlanta suburb in the metro area's booming Gwinnett County.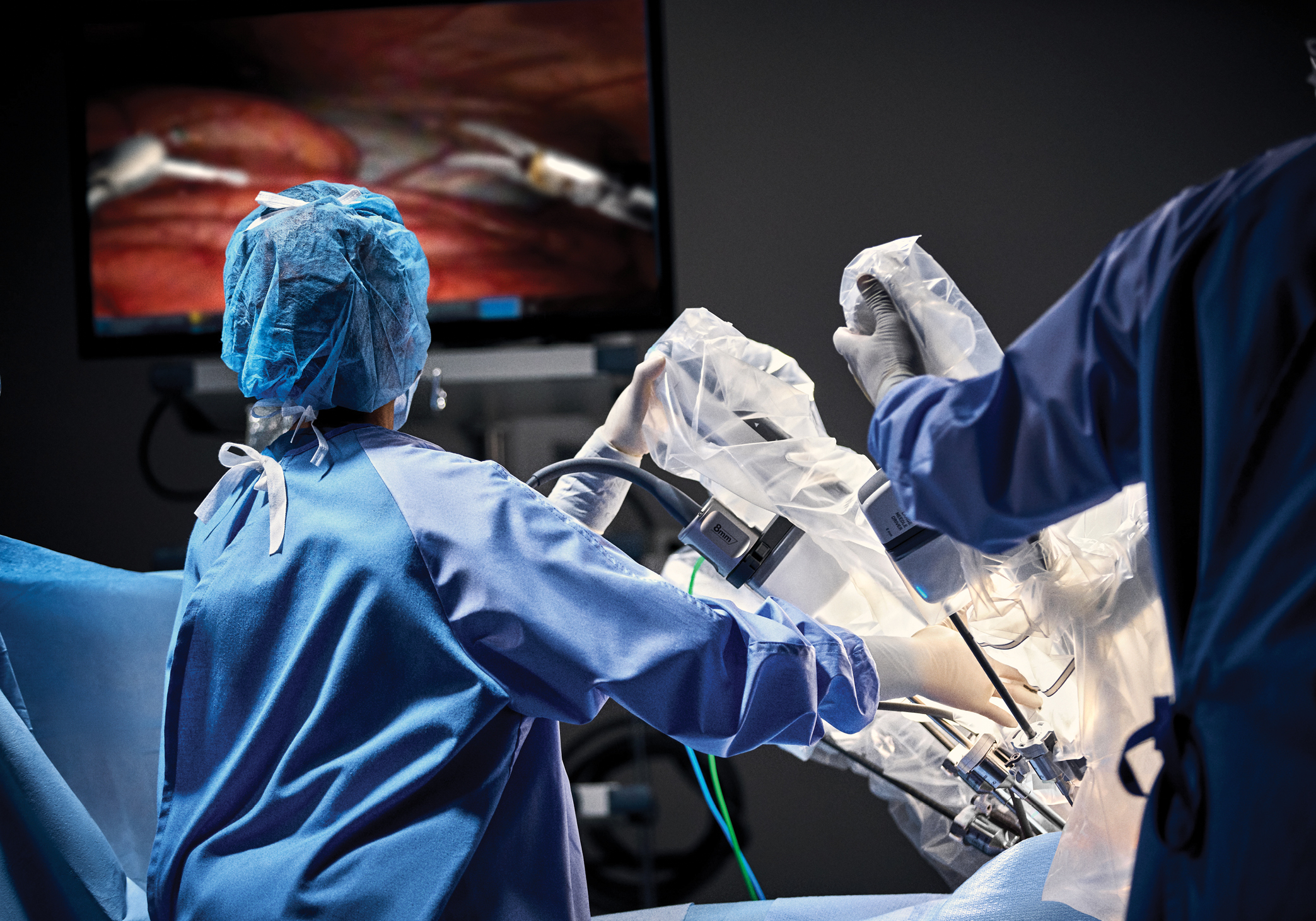 Surgeon operating with da Vinci XI system.
Photo courtesy of Intuitive Surgical.
Intuitive plans to expand its Georgia site to 750,000 sq. ft. with a $500 million investment to include manufacturing and engineering operations, training facilities and administrative offices. Now under construction, the site (about a mile from Site Selection's headquarters) will be opening in phases until completion, with full operation anticipated by 2024.
"This expansion is part of our broader, multi-year global growth strategy to build and expand global 'hubs' where we can best support our customers and all elements of our business," says Eric Torbenson, senior manager of global public affairs at Intuitive. "Over the next few years, we anticipate adding approximately 1,200 employees in manufacturing, production, distribution, engineering, sales, customer training, customer service and more."
Torbenson tells Site Selection that access to a strong and diverse talent pool and quality infrastructure were key factors in Intuitive's decision to expand in Georgia.
Peachtree Corners City Manager Brian Johnson says Intuitive's investment is the largest economic development project in Gwinnett County's history. With the creation of 1,200 high-paying jobs, Johnson notes the move is a "game changer" for the community, a win that state and local officials worked hard to score.
The impact on the local economy through increased need for housing, education and retail developments brings challenges that Johnson looks forward to addressing. Investments like Intuitive's not only bring new talent to the area, but site acquisitions from suppliers as well.
"These are companies that want to be close to the mothership," Johnson says. "We have definitely had interest and are working with some of those companies now to show why they should move to Peachtree Corners."
CBRE's Americas Life Sciences Leader Matthew Gardner says markets like Atlanta are gaining recognition.
"I think that's a very important signal for the industry to hear they can find a highly educated life sciences workforce in a number of markets around the U.S."
— Matthew Gardner, Americas Life Sciences Leader, CBRE
"There's something really interesting as a signal to other multinationals about that decision, which is that a lot of the industry feels like it has matured in Massachusetts and California and has to think about [which] emerging markets should be next," he says. "I think that's a very important signal for the industry to hear they can find a highly educated life sciences workforce in a number of markets around the U.S."
Georgia, with assets such as the Atlanta-based Centers for Disease Control and Prevention in its holster, indeed has gained recognition and attracted investments from top players in the industry, including Boston Scientific and Moderna.
CBRE's top five life sciences markets — Boston, Washington, D.C., San Francisco, New York and San Diego — tote a high cost of living relative to salary earnings. Atlanta finds itself in a favorable situation as the annual cost of living averages $48,752, according to the U.S. Bureau of Labor Statistics. That low cost of living in comparison to other metros plays a vital role in not only talent retention, but real estate costs as well.
CBRE's 2022 Life Sciences Talent Report ranked Atlanta 14th out of the top 25 life sciences research talent clusters. "Denver/Boulder, Minneapolis/St. Paul, Houston, Atlanta, Dallas/Ft. Worth and Miami, though sometimes overlooked, also have world-class health centers and universities, and in turn, sizable pools of life sciences research talent," the report stated.
Institutions such as Emory University and Georgia Institute of Technology offer a wealth of skilled talent to add to over 75,000 life science employees in the state. Between 2016 and 2020 the state produced over 33,000 graduates with life sciences-related degrees. Over the next 10 years, Georgia occupations in the industry are expected to increase by 7%, higher than the U.S. average.
Just Up the Street
Georgia Governor Brian Kemp announced in June 2022 that Boston Scientific plans to expand its Johns Creek facility. About 11 miles northwest of Initiative's campus, what was once an EndoChoice site became part of Boston Scientific's Endoscopy business in 2016 after a $210 million acquisition.
Construction underway at Intuitive's Peachtree Corners site.
Photo by Adam Bruns
For over 40 years, the medical technology leader has designed and manufactured a portfolio of over 17,000 products. The company's medical devices and therapies cater toward less-invasive procedures, its Georgia facility specializing in endoscopy.
Boston Scientific is investing $62.5 million to expand and integrate a new manufacturing and supply chain plant. The expansion will create 340 new jobs, adding to its roster of 300 employees in Fulton County.
"As we expand our presence in Georgia, we remain grateful to all of our local employees whose work is already making a difference for healthcare providers and patients around the world," said Brad Sorenson, executive vice president of global operations at Boston Scientific, in a press release. "Our new site in Johns Creek will enable continued growth as we fulfill our mission to transform lives."
Like the city of Peachtree Corners, Fulton County figures prominently in Atlanta's budding life sciences market. According to Georgia Power's 2021 Life Sciences Database there are 110 medical device companies in Georgia, employing over 10,000. The sector accounts for $2.8 billion of Georgia's Gross Regional Product.
Georgia's potential to be one of the next big medical devices markets is not a far-fetched idea.